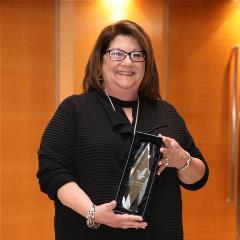 Gabryl Award Winners
2017
Amy Marko
Starmount Life/Unum
Volunteer Service
Board of Directors
Education Commission
Alternative Educational Initiatives Subgroup
Operations WorkGroup
Board of Directors
Communications Committee
Research Commission
The Membership WorkGroup and Education Commission recommend Amy Marko as a Gabryl Award nominee because she has served as an important bridge in communication, education and collaboration between dental plans and providers. Because Amy's professional experience includes service for leading carriers and Dental Support Organizations (DSOs), she is able to see common issues from both perspectives. With this expertise and knowledge, she has been a highly effective leader of the Operations WorkGroup, which recently released two invaluable tools that benefit the entire industry from both plan and provider perspectives: Provider Directory Validation and Credentialing Forms.
Volunteer History and Awards:  While Amy Marko has served NADP in many volunteer roles, her home is the Education Commission, which she joined in 1996, serving as Vice-Chair in 1998 and 1999. In 1998 she also chaired the Subgroup on Alternative Educational Initiatives that was responsible for developing the Provider Relations seminars held in California and Washington D.C. She was elected to serve on the Board beginning in 1999 and served through 2004. While on the Board and through 2005 she continued as a member of the Education Commission. She served on the Research Commission from 2008-2012, the Communications Committee in 2011-2012 and on the Operations Workgroup and Education Commission from 2012 to present.
Amy Marko began her managed dental care career with Safeguard Health Enterprises in 1977 and held progressively more responsible positions in network management, sales and customer service as well as expanding the plan to Colorado, Arizona, Nevada, Texas, and Missouri.
In 1994 she left Safeguard as senior vice president with regional responsibility to join Prudential as executive director for the Central Group operations. At Prudential she had responsibility for the indemnity, PPO and DMO products. In 1998, she became vice president of eastern dental operations for Prudential, which covered 26 states. While at Prudential she launched the company's voluntary dental program resulting in 1.4 million new members. In 1999 Prudential sold to Aetna and Amy transitioned to Aetna as vice president/general manager where she remained until 2004. While at Aetna, she grew the PPO and DHMO networks by 12% and contracted an additional 2,900 network dentists. In 2004 she moved to the West Coast as vice president of dental for Kaiser Permanente, creating a standalone, $100 million non-profit dental business. In 2011 she joined Aspen Dental as vice president of insurance and managed care operations taking on responsibilities for insurance contracting, pricing and revenue cycle management. Later she transitioned to InterDent as vice president of insurance operations. Currently she is senior vice president of Dental/Vision Products & Professional Relations for Starmount Life / AlwaysCare.