Who has dental benefits today?
At the year-end of 2020, approximately 261 million Americans, or nearly 80% of the population, had dental benefits [1]. The significant increase in publicly funded benefits (2014 through 2016) is the result of Medicaid expansion as authorized by the Affordable Care Act (ACA) and improved data reported by the Centers for Medicare and Medicaid Services (CMS). With 2017 data, NADP also comprehensively analyzed the CMS database on Medicare Advantage products with dental benefits.
Two-thirds of 167 million Americans had private dental coverage. About 91% of Americans with private coverage get their benefits through an employer or other group program like AARP. Another 8.8% buy individual coverage [2], while less than 1% obtain dental benefits as part of a medical plan.
Another 94 million Americans get dental benefits through public programs like Medicaid, the federal Children's Health Insurance Program (CHIP), TriCare (coverage for military and their dependents), and Medicare Advantage or Medicare Supplement plans.

According to NADP's tracking survey of consumer attitudes, awareness, and behaviors toward dental care and dental benefits, Americans with dental benefits are more likely to go to the dentist, take their children to the dentist, receive restorative care, and experience more excellent overall health.
This report clearly shows that access to dental care is improved with dental benefits and that dental care improves oral health. Given the increasing connections between oral and overall health, dental coverage is critical for all Americans. The choice for us as individuals and our health care system is to pay for dental care or more for medical treatment of dental complications later.
Some 69 million Americans had no dental coverage in 2020. The overall medically uninsured rate was reported at 8.6%, or 28 million people, in 2020. In addition to the impacts of the ACA, the continued gap in those with no dental coverage is largely due to the lack of dental coverage in traditional Medicare. Those over 65 may still have coverage through an employer, be able to purchase individual dental coverage, or obtain dental coverage as a supplemental benefit through a Medicare Advantage plan. However, only 57% of seniors reported having dental coverage on the 2017 NADP Consumer Survey, while virtually 100% of seniors have medical coverage under Medicare.
Individuals without dental benefits are more likely to have extractions and dentures and less likely to receive restorative care or treatment for gum disease. Furthermore, those without dental benefits report higher incidences of other illnesses. They are:
67 percent more likely to have heart disease;
50 percent more likely to have osteoporosis; and
29 percent more likely to have diabetes.
They also visit the dentist less frequently – missing the opportunity for prevention and early treatment. Many of them account for over 2 million visits to emergency rooms for dental treatment annually [3].
[1] 2019 NADP Dental Benefits Report: Enrollment
[2] While individual dental coverage is only 7.1% of total coverage in 2018, just a few years earlier, in 2011, it was only 2% of coverage.
[3] The Healthcare Cost and Utilization Project (HCUP) National Emergency Data Sample
What are the different types of dental benefits products?
There are four fundamental types of dental benefits products with significant market shares today, i.e., dental Health Maintenance Organizations (HMOs), dental Preferred Provider Organizations (PPOs), dental indemnity plans, and discount dental plans. Today 86% of all commercial dental policies are DPPOs.
A standard set of definitions helps seek dental benefits coverage. The terms we use are defined below:
Dental HMOs-plans that provide comprehensive dental benefits to a defined population of enrollees in exchange for a fixed monthly premium and pay for general dentistry services primarily under capitation arrangements with a contracted network of dentists. Enrollees must use network dentists to obtain coverage except where a point of service provision allows them to opt-out of the network but at reduced coverage.
Dental PPOs-refer to dental benefit plans that have contracts with dentists to obtain a discount on overall fees. Enrollees receive value from these discounts when using contracted dentists but may go outside the network of discounted dentists with a reduction in coverage. Dentists are reimbursed on a fee-for-service basis after care is provided at either the discounted rate or the "UCR" (usual, customary, reasonable) rate recognized by the plan. Individuals are not balanced billed for the difference between the negotiated fee and the actual fee that the dentist charges.
Dental Indemnity Plans-refers to benefits plans where the risk for claims incurred is transferred from the employer to a third-party insurer for a specified premium and dentists are reimbursed on a fee-for-service basis, and there are no discounted provider contract arrangements whereby the dentists agree to accept a fee below their customary fee.
Discount Dental or Dental Savings Plans-refers to non-insured programs in which a panel of dentists agrees to perform services for enrollees at a specified discounted price or discount off their usual charge. The discount plan makes no payment to the dentists; dentists are paid the negotiated fee directly by the enrollee. These plans are sometimes referred to as "access plans," "savings plans," or "discount plans."
What do dental plans normally cover?
There are seven basic areas of dental care that policies cover. With individual policies, often only the first four will be covered in a policy's initial year, with the last two available later. Orthodontics is usually a rider for individual and group policies that can be selected when relevant.
Preventive care, i.e., cleaning, routine office visits;
Restorative care, i.e., fillings and crowns;
Endodontics, i.e., root canals;
Oral surgery, i.e., tooth removal and minor surgical procedures such as tissue biopsy and drainage of minor oral infections;
Orthodontics, i.e., retainers, braces, etc.
Periodontics, i.e., scaling, root planing, and management of acute infections or lesions; and
Prosthodontics, i.e., dentures and bridges.
Dental benefits overcome consumers' top concern about getting the care they need-cost. The seven types of procedures are broken into three coverage areas for payment purposes (i.e., preventive, basic, and major).
Most plans cover 100% of preventive care and apply copayments, either as a dollar amount (DHMOs) or as a percentage (DPPOs and Dental Indemnity / or Traditional Insurance) to other levels of care. Preventive care usually includes periodic oral evaluations, X-rays, and sealants. (NOTE: Sealants may be limited to specific age groups.)
Basic procedures such as office visits, extractions, fillings, root canals, and periodontal treatment for gum disease are typically covered at a lower percentage amount, for instance, 80% when in-network or a lower amount like 60% when a dentist is not in the network. In the case of a DHMO, there will be lower dollar co-payments for these procedures rather than percentages. For instance, if a service costs $100, the DHMO co-payment would be $20.
Major procedures, including crowns, bridges, inlays, and dentures, are usually covered at the lowest percentage, such as 50% or a higher dollar copayment in the case of a DHMO. Some carriers now offer coverage for implants under this category but may have a frequency limitation like one per year. (NOTE: Root canals are also sometimes covered in this category rather than as a Basic procedure, so check your coverage.)
About 63% of dental PPOs, the predominant dental product in the market, have a maximum annual benefit of $1,500 or more. While more of those with lower annual maximums hit the maximum, in the past six years, only 5% of enrollees, on average, have reached their annual maximum for in-network services.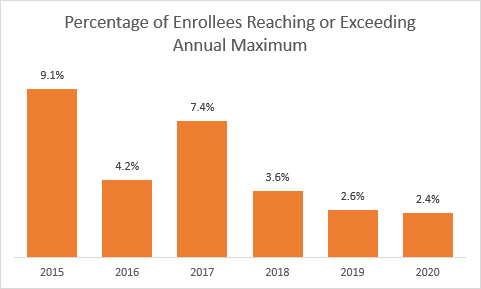 This fact keeps employers from offering dental PPOs with higher annual maximums as the additional premium cost may not be affordable. While employers contribute some amount to dental coverage for most employees that are offered benefits, since 2010 the portion of employees paying the total premium for their dental benefits has doubled from 10% to 20%.
Deductibles for these products are usually between $50 and $100. Some carriers now offer policies that roll some portion of unused their annual maximum.
NOTE: DHMOs rarely have an annual maximum, while most dental indemnity product annual limits parallel DPPO limits.
What are typical dental procedures and what do they cost?
Dental procedures are billed under procedure codes established by the American Dental Association. The 50 most used codes encompass 95% of all procedures submitted annually to insurance carriers. These 50 codes can be grouped into the following types of procedures:
Oral Examinations (4)
X-rays (6)
Tooth cleanings (2)
Application of Fluoride (3)
Sealants (usually limited to children) (1)
Fillings are either Amalgam /silver (3) or Composite/white (8)
Crowns (7)
Root Canals (3)
Treatments for gum disease (5)
Extractions (4)
Emergency relief of pain (1)
Anesthesia (2) and
Consultations
NADP does not collect information on dental fees. The ADA publishes a survey of dentist fees which is available from their website: Survey of Dental Fees [1]. The data in this survey is in broad geographic areas. More specific, up-to-date information is available to consumers for particular dental procedures by zip code area from FAIR Health's Dental Cost Lookup.
[1] Based on postings on the ADA website, this publication is updated every 3 years.
Did the Affordable Care Act change how dental benefits are offered?
Since the implementation of the Affordable Care Act in 2014, there has been a new structure for children's dental benefits. On the public "marketplaces" and for policies sold to small employers of 50 or fewer employees and individuals, pediatric oral health services are defined as part of Essential Health Benefits (EHB). The pediatric services that meet EHB requirements through a standalone dental plan cannot have annual maximum limits and must limit consumer out-of-pocket expenses to $350 a year for one child or $700 a year for a family when the coverage.
While pediatric oral health services in a medical plan also cannot have annual limits, the pediatric oral services covered can be subject to the entire medical deductible, which averaged $2900 in 2015. And the limits on consumer out-of-pocket expenses are much higher under medical plans. In 2017, limits on consumer out-of-pocket spending were $7,150 for an individual medical plan and $14,300 for a family medical plan. Pediatric oral services are included in these limits.
Adult coverage and children's coverage through large employers (51 and more employees) remain under the structure described under the question, "What do dental plans normally cover?"
Do public programs like Medicaid and Medicare cover dental care?
There are two major dental diseases, cavities, and gum disease. Dental coverage is essential for children because cavities (dental caries) are the most common childhood disease. Dental coverage is critical for adults because over 70% of adults aged 65 and older have some level of gum disease.
Medicaid covers comprehensive dental care for children through the Early and Periodic Screening, Diagnostic and Treatment (EPSDT) benefit, which federal law requires all states to provide.
In 2009 a new requirement to provide dental coverage was added to the Children's Health Insurance Program (CHIP), allowing a family to buy just dental coverage for their children if the family has medical coverage but no dental coverage.
While states are not required to provide adult dental services under Medicaid, most give some level of dental services for adults. Only 3 have no coverage at all. There is a solid state-by-state effort to ensure some level of Medicaid dental treatment for adults. The two million visits to emergency rooms annually for dental services cost over $1.6 billion; Medicaid pays for about 1/3 of these charges, i.e., $520 million[1].
Traditional Medicare, i.e., Medicare Part B, does not cover routine dental procedures. However, about one-third of seniors buy Medicare Advantage (MA) plans rather than enroll in traditional Medicare. NADP's 2021 Dental Benefits Report: Enrollment analyzed Center for Medicare and Medicaid (CMS) data on Medicare Advantage enrollment and found that 16.3 million seniors had dental benefits through their MA plan in 2020. MA plans cover roughly one-third of Medicare enrollees. MA plan enrollment is projected to be 69% of Medicare by 2030. Most MA plans that include dental benefits charge no extra premium for the coverage. About 1 in 6, usually those with the more extensive benefits, charge a small additional premium for the dental coverage.
Other commercial dental benefits are available to seniors through groups like AARP's endorsed group dental program for their members or on an individual basis.
Cassandra Yarbrough, M.P.P.; Marko Vujicic, Ph.D.; Kamyar Nasseh, Ph.D.; Estimating the Cost of Introducing a Medicaid Adults Dental Benefit in 22 States, ADA Health Policy Institute, March 2016 Available at ADA.
What should I think about before I shop for coverage?
Before you shop, think about what is most important to you or your employees:
Is it most critical for out-of-pocket expenses to be predictable and low? A Dental Health Maintenance Organization (HMO) might best suit your needs or your employees. Dental HMO co-payments are published and offer more predictability as they are usually stated as specific dollar amounts. Premiums are also the lowest among insured dental benefit products, and there is rarely an annual maximum on care. DHMOs typically have the lowest deductibles. In 2021 NADP found that nearly all DHMO plans have deductibles under $25, while only 28% of Dental Preferred Provider Organizations (DPPO) deductibles are at this level. The trade-off for this predictability and lower cost is that the consumer must go to a dentist in the network for care. Only when a dental emergency occurs outside of the consumer's home area is a dentist that is not in the network paid for dental care.
Do you or your workforce have a greater tolerance for cost-sharing and an interest in a broader network of dentists? If so, a dental PPO or a Discount plan may suit you. Co-payments in dental PPOs are usually stated on a percentage basis, and some coverage is still provided for care obtained outside the network. DPPOs have an annual maximum on the amount the carrier will pay for services-often $1,500 or more. About 46% of deductibles are between $50 and $99.
Discount plans do not pay anything toward the cost of care; they make a network of providers available to the consumer that offer services at a discount. So, while Discount plan monthly fees are lower than DHMO and DPPO premiums, the total cost of care must be paid out-of-pocket at a discounted rate.
If freedom to choose a dentist is paramount, a dental Indemnity plan may be your best match. Annual maximums and co-payments are like those of DPPOs. Premiums are often slightly lower than DPPOs as there is no network organization cost to the plan. While there is no restriction on the choice of dentist, there is no discount on fees, so the cost of services will be higher than in a DPPO, which means that fewer services will be reimbursed within the annual maximum by the indemnity plan. So, consumer out-of-pocket costs will be highest under this plan type.
How can I find a Dental Plan?
The NADP site has a link to the NADP Directory; use the button on the home page marked "Find a Dental Plan." This Directory provides a way to search by state and "individual" or "group" coverage for the carriers that offer dental benefits in your state. Since NADP members write more than 90% of all the private dental benefits in the United States, this search will usually provide a list of 6 to 12 companies that write coverage for individuals and many more for groups. Some companies offer only discount products or Dental Health Maintenance Organizations (DHMO). In contrast, others will offer Dental Preferred Provider Organizations (DPPO) or dental indemnity, so know the type of coverage you are looking for before you search.
Other websites connect employers looking for group coverage to carriers:
Websites that focus on people buying coverage for themselves or their families include the following:
If you are older and can't afford the cost of dental coverage, there are community-based oral health programs that focus on seniors. This website provides a searchable database of these programs: https.oralhealth.acl.gov. The site collaborates with the U.S. Department of Health and Human Services, the Administration for Community Living, and the Office of Women's Health.
NOTE: Listing contact sites for coverage does not endorse that site or their products.
1Healthcare.gov is the federal website offering medical and dental coverage with subsidies for families with incomes up to 400% of poverty. The website is open to individuals that do not have an offer of adequate coverage through an employer.
What do dental benefits cost on a group basis or if I buy them directly as an individual?
For most, the cost of dental benefits is less than your daily cup of coffee. Depending on what you buy, that might be regular coffee, or it might be Starbucks. (NOTE: Costs will vary by country area and coverage.)
Individual policies are generally more expensive than group policies, and the coverage may also be somewhat limited. Separate policies generally do not cover orthodontia. There may also be other coverage limitations and waiting periods, particularly for major procedures. NADP estimates national average monthly dental premiums for individual DHMO plans at $13.83 per month and for individual DPPO plans at $35.16 per month.
Employer-Provided Dental Benefits: Depending on the type of dental benefit-DHMO, DPPO, or Dental Indemnity, the employee's premium is about the cost of having dinner out once a month-ranging from about $13.08 to $34.71 for DHMO or DPPO coverage, respectively. On average, dental premiums are about 1/20th the cost of medical premiums per person.[2]:
Employee only:
DHMO — $16.64 to $18.31 a month–$200 to $220 annually
DPPO —  $28.70 to $30.71 a month–$344 to $369 annually
Indemnity — $35.97 to $37.35 a month–$432 to $448 annually
Discount Dental Plan fees can range from a few dollars a month to $10 or 12 dollars a month for an individual or $20 to $30 a month for a family. The Consumer Health Alliance (CHA) reports that 62% of discount programs cost less than $200 annually, resulting in about 40% savings on the cost of dental services.
Dental Benefits on Public Insurance Marketplaces
In 2015 about 1/3 of the medical policies offered on public insurance marketplaces (aka exchanges) included a pediatric dental benefit. Of those, 90% made that benefit subject to the medical deductible that averaged just under $3000. Of the 90%, two-thirds waived the deductible for diagnostic and preventive care, making the pediatric benefit a "prevention only" benefit.
In 2016 the number of children applying for commercial coverage again increased; it was 1,068,631. Of these, 115,304 applied for separate dental coverage. Again, no information was made available on whether the other applicants obtained medical policies with pediatric dental coverage. About 1.4 million individuals applied for separate dental coverage, i.e., primarily adults.
In 2017, the number of children applying for commercial coverage through all public exchanges was approximately level to the prior year, i.e., 1,068,082 vs.1,068,631 the preceding year. The number of general applications in all public exchanges was also down slightly, 12,200,000 vs.12,600,000 the prior year. Overall, there were about 1.9 million public exchange applications for SADPs, with approximately 134,000 of these applications for children in the 0-17 age group.
[1] NADP 2019 Dental Benefits Report: Financial Operations and Premium Trends, January 2019
[2] Ibid. NOTE: Average of all groups is displayed; premiums for small groups (under 50) will usually be higher than the average shown here while the largest groups (500 or more) will be lower.
[3] Discount Health Care Programs: Evolution and Prospects for Continued Growth, Consumer Health Alliance, 2017.
Are dental plans accredited?  Is there any method of licensing or registration?
NADP member companies are licensed where appropriate in their states of operation as insurers or health plans-usually through the Department of Insurance. NADP member companies also support a consumer access and rights policy. All states license and regulate dental carriers that provide dental insurance products such as dental HMOs, dental PPOs, and dental indemnity products. Thirty-four states regulate discount plans, of which 23 require licensure or registration.
There is no type of accreditation service or seal of approval for all functions of companies that offer dental benefits.  Some dental plans have received separate certifications of their dental clinics, provider credentialing, claims processing, or utilization review process from an accreditation service that focuses primarily on medical plans.
Separate from NADP, there is also an affiliation of Delta Dental Plans, i.e., DDPA-their website and that of NADP provide the names of companies that are most active in the dental benefits arena.  NADP members provide benefits to over 90% of Americans with dental coverage; DDPA's members cover about 26% of Americans-together, our associations represent virtually all of the market.
Also, check with state insurance or health regulatory authorities to ensure that the dental company you are considering is licensed if the company provides a dental HMO, dental PPO, or dental Indemnity plan.  Discount dental plans are not licensed in most states as they are not insurance products, although an increasing number of states require some registration or regulation.  Regulatory authorities also track complaints, and their published summaries show dental products in the lowest ranges of consumer complaints.