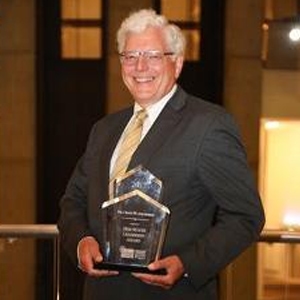 Don Mayes Leadership Award
2017 Recipient
Dr. Craig Amundson, HealthPartners
Since its development and inception in 2009, Dr. Craig Amundson has been the sole representative of the dental benefits industry on the Executive Committee of the Dental Quality Alliance, formed to develop dental quality measures for the Centers of Medicare and Medicaid. He has also served as the Chair of the DQA Measure Development and Maintenance Committee (MDMC). Since 2012, he has served as the vice chair of the NADP Clinical WorkGroup under multiple structures, including the Professional Relations Commission and Standards & Transaction Initiative.
Dr. Amundson was instrumental in the development and adoption of DQA Measures for both Medicaid and Medicare. In addition, he has been an advocate for dental quality measures in the commercial market. He has shared his expertise and passion for dental quality measures via multiple NADP Conference sessions and webinars as well as articles in the NADP newsletter.
Dr. Amundson began his NADP volunteer service in 2004 when he joined the Provider Practice Capacity Initiative. In 2005, he joined the Professional Relations Commission. Later that same year, he received his first Star Award for his contributions to the development of a dental workforce estimate. The PRC Clinical WorkGroup awarded him the double star in 2011 for his service on DQA.
Additional Volunteer Service
In addition to his DQA service, Craig has been actively involved with NAPDP and NADP since 1992. From, He served on the NAPDP Board of Directors from 1993-1996 and on the Foundation Board from 1995-1997. He presented multiple sessions at the 1993 NADP Annual Conference and he as been actively involved in multiple volunteer groups including the Government Relations Commission and Provider Practice Capacity Initiative in 2004. In 2005 and he began his work on the Clinical WorkGroup where he currently serves as vice chair.
NADP Awards
1993 – Circle of Leaders Award honoring service on the Board of Directors
2005 – Professional Relations Commission Star for his leadership in the development of a dental workforce estimate
2011 – PRC Clinical WorkGroup: for taking on Dental Quality Alliance (DQA) responsibilities, including service on the executive committee of the DQA which is charged with developing dental quality measures for the Centers of Medicare and Medicaid.
2017 Professional Biography
Dr. Amundson has served many years at HealthPartners starting in 1977 as staff dentist. Additional positions include chief operating officer from 1993 – 2008; senior vice president, 1990-2008, vice president 1982-1990, and dental director 1981-2008. His leadership responsibilities for HealthPartners' Dental Division included dental plans, dental plan operations and dental clinic operations. Additional responsibilities included medical operations in Central Minnesota and functioning as a utility player in the company's leadership group.
Prior to joining HealthPartners, he was a dental officer in the U.S. Public Health Service. He graduated from the University of Minnesota where he received his degree in dentistry (DDS) with honors. He later served his residency in Washington State.