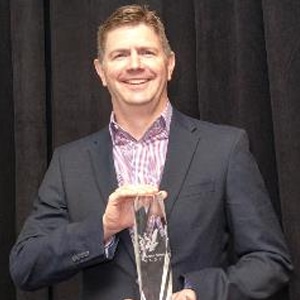 Gabryl Award Winners
2018
Mr. Chris Swanker
Guardian / Avesis
In 2018 the Board received only one recommendation for the Gabryl nominee, which was submitted by the Commission on Advocacy Policy, Education Commission and the Communications, Membership and Government Relations WorkGroups.
Swanker received the Gabryl Award for his leadership during critical health care reform years. Serving as Health Care Reform Task Force Vice Chair during development of the Affordable Care Act and as NADP Board Chair during its first two years of implementation, Chris provided a very strategic and insightful thought process to discussions impacting the dental benefits industry.  His recent work on the revenue-based dues model has been crucial in making the model a reality....and a big effort on his part.   Behind the scenes he shares with staff critical information on activities impacting the industry. As an industry we have benefited and continue to benefit from Chris's engagement with NADP.
Volunteer Service & Awards
Board of Directors
Communications Committee (Board Liaison)
Government Relations Commission (member & Board Liaison)
Health Care Reform Task Force, Vice Chair
Chris Swanker has been an active voice and leader representing the dental benefits industry for many years. His volunteer history includes:
On the HCR TF from 2010 to 2014 as Vice Chair
On the Board from 2012 to 2017
Board Vice-Chair in 2013
Board Chair from in 2014 and 2015
Remains ex-officio on the Board Executive Committee in 2018 as Immediate Past Chair
As Board Liaison to Communications Committee, he provided valuable knowledge and insights to ACA article series for brokers
Developed the "revenue-based dues model" alternative, worked with staff on testing the model and has continued to actively work with staff on refinements to transition to that model for the future dues base for NADP even after his Board term expired.
Currently serving on the NADP Search Committee to select NADP's new Executive Director
2010 Star Award from Communications Workgroup for providing a list of broker contacts to launch the NADP SmartBrief
2011 Star Award from Health Care Reform Task Force for testifying before NAIC and securing audience with key HHS personnel
2012 Star Award from Health Care Reform Task Force for facilitating conversation with NADP and Federally-facilitated Exchange administration.
About Chris Swanker, FSA, MAAA, LLIF
CEO, Avēsis
Chris has 24 years of experience in the insurance industry with a focus on employee benefits.  As CEO of Avēsis, a wholly owned subsidiary of Guardian Life Insurance Company of America, he is responsible to develop and execute the strategy to leverage Guardian's knowledge of ancillary benefits into government benefit programs such as Medicaid, Medicare Advantage and the Children's Health Insurance Program.
Since he joined Guardian in 1994, Chris has held several leadership positions including: vice president, worksite and specialty markets from 2011 to 2014 where he was responsible for product development, enrollment, services and distribution support for Guardian's $1 billion worksite business; as well as building new products and capabilities for emerging distribution channels such as private exchanges, state healthcare exchanges, and direct to consumer marketing approaches.
Prior to 2011 Chris held the roles of vice president of dental and vision, leading Guardian's $1.6 billion Group Dental and Vision business, and second vice president group worksite, market development and e-Business where he oversaw the Guardian's product, enrollment and service strategy for entry into the group worksite marketplace and launched Guardian's integrated web portal – Guardian Anytime.
Chris is part of Guardian's Commercial and Government Markets Executive Team and is prior NADP chairman of the Board of Directors.  He received a BA in Mathematics/Actuarial Science from Mansfield University of Pennsylvania and is a Fellow in the Society of Actuaries.